America's #1 Exam Prep
For Getting Your Real Estate License
The Real Estate License Professor is the number one provider of high quality real estate license exam knowledge designed to help you pass your real estate exam the first time. Your success and satisfaction is ensured through our PASS OR DON'T PAY, 100% Guarantee!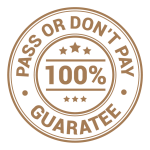 All of the real estate license study guide material is derived from actual state real estate license salesperson and broker exams. Explanations and feedback given by the Real Estate License Professor is provided by experienced instructors who have taught real estate license classes and real estate license courses for years. Thousands of students have realized their real estate careers by preparing with the License Professor. Take the first step to getting your real estate license with us.
20,500
+
Satisfied Members
Features
Study for Multiple States
Study for as many national and states' real estate licenses - all for the cost of one.
Instantly Review Results
Every time you take a quiz or exam, review the results to build and improve your knowledge.
Vast Library of Exams
Tons of exams, including definition and math. Endless random quizzes - all with three interactive study modes.
Instant Access
Once you purchase a package, you receive immediate access to all content.
Real Estate Glossary
Real estate specific online glossary with hundreds of definitions and phrases.
Updated to Today's Regulations
All content is up to date and reflects current exam standards.
Real Estate License Prep Packages
Unlike some other exam prep services, all of our packages come with unlimited access to our state-specific exam prep. Just select the license you are applying for, and decide on how much time you feel comfortable with.
Real Estate Exam Prep Questions by State